Guest blogger and ResponsibleTech Summit 2020 speaker Leanne Kemp, Queensland Chief Entrepreneur shares her thinking about responsible innovation. This post was originally posted by the Office of the Queensland Chief Entrepreneur in April 2020 here »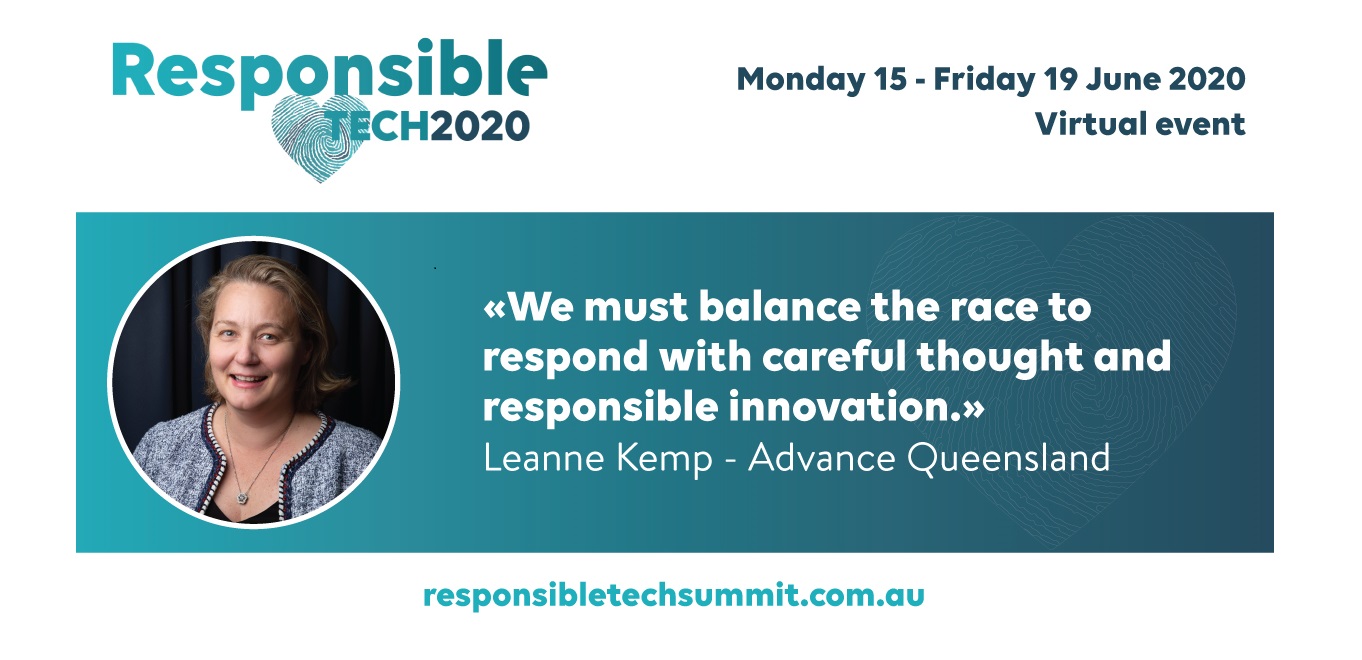 Recently, the Queensland Premier reminded us that 100 years ago, the Ekka grounds were converted to accommodate the pandemic of the day: Spanish influenza. Hard to believe, a century later, we are contemplating converting the same space for a similar use, yet again. 2020 will not be the year of Dagwood Dogs, fairy floss and circus clowns. It's the year of face masks, hand sanitiser and surgical gowns.
Supply chains for these must-have items have been tested. Which prompts me to ask: are we reaching a 4IR tipping point?
To understand the fourth industrial revolution, it makes sense to learn from the first Industrial Revolution (the OG if you like). The Industrial Revolution was a tipping point, it was huge. For many thousands of years before it, economic growth was practically negligible, generally tracking with population growth: farmers grew a bit more food and blacksmiths made a few more tools, but people from the early agrarian societies of Mesopotamia, Egypt, China and India would have recognised the world of 17th-century Europe.
But when steam power and industrial machinery came along in the 18th century, economic activity took off. The growth that happened in just a couple hundred years was on a vastly different scale than anything that had happened before. We may be at a similar tipping point now, referred to by some as the "Fourth Industrial Revolution," and fuelled with the mother of all invention, "necessity". All that has happened in the past may appear minor compared to the productivity and profitability potential of the future. Industry leaders and defence workers alike met and surpassed the challenge of war by designing and producing materials critical to the war effort.
In the past few weeks, we've all been watching as our personal freedom of movement dwindles in the interest of the common good. Hard to believe public gatherings now mean just two people meeting in an open space. But such is the serious impact of the pace and scale of the COVID-19 emergency that is among us. I think about the emergency workers every day and their preparation for what is about to come. If we lose control of this virus, how are our front line medical workers going to be prepared when they come face-to-face with the most vulnerable from our society?
Medical supply chains are fragile in the best of times and COVID-19 will test their strength. In our haste to overcome this virus, we must not forsake deep strategic thinking and ideas with our ability to innovate to deliver working solutions – fit for the problems and timely in the market.
The Office of the Queensland Chief Entrepreneur is at the forefront of 'ideas' and challenge-led innovation for the State. This is complemented by the breadth and depth of thought leadership that the Office can tap into with the Queensland Chief Scientist, and organisations like Advance Queensland and the CSIRO. Additionally, under my watch, there is a harmonious bridge that provides intelligence from the World Economic Forum, economists and futurists at the OECD. We are privileged to be able to 'tap' into extraordinary global and local experience in cross-disciplinary fields.
During this COVID-19 pandemic, the need for certain medical devices, including personal protective equipment (PPE) is outpacing the supply available to healthcare organisations because of the high demand and interruptions to the global supply chain. Beyond hospital and health services, society could seek to use 3D printing to assist in meeting demand for certain products during the COVID-19 pandemic.
We have seen and will continue to see Government and authorities take creative and flexible approaches to address the challenge of access to critical medical products in response to COVID-19.
I applaud these efforts but we must balance the race to respond with careful thought and responsible innovation. Responsibility has always been an important theme of research and innovation practice, although how it has been framed has varied with time and place.
Entrepreneurs or startups who are involved in designing, developing, or adopting innovative modalities should:
Innovate on the basis of sound scientific evidence and appropriate clinical expertise.
Seek urgent and immediate input from medical professionals.
Design to minimise patient risk and maximise the likelihood of application at scale.
Be sensitive to the costs involved; and be aware of influences that may drive the direction of innovation beyond the public-good.
When entrepreneurs develop innovative diagnostics, therapeutic or medical devices to any patient, they must refrain from offering such services until they have acquired the appropriate knowledge and skills.
In an effort to protect others, I caution innovators that 3D print devices, accessories, and parts during the COVID-19 emergency, and to "Prepare & Certify" before "Print & Promote", especially if related to PPE.
PPE includes protective clothing, gowns, gloves, face shields, goggles, face masks, and respirators designed to protect the wearer from injury or the spread of infection. And while it is possible to use 3D printing to make certain PPE, there are technical challenges that have to be overcome to be effective enough. For example, 3D-printed PPE may provide a physical barrier, but 3D-printed PPE are unlikely to comply with Australian standards nor provide the same fluid barrier and air filtration protection as FDA-cleared surgical masks and N96 respirators.
I am always the very first to commend the entrepreneurial mind and the spirit of a startup. Printed items may appear conventional, however, the facts are they may not provide the same level of protection, resistance, filtration, and infection control.
I have been approached by entrepreneurs that are trialling these devices and if I can offer my counsel, people should use original parts or those with the same specifications, dimensions, and performance, if available. It may be possible to use 3D printing to print certain accessories and some complex products (for example, working pumps and electronics). It may help to use plans from original parts when available and verify that any 3D-printed products fit and work properly before they are used in a clinical setting. Entities engaged in 3D printing are encouraged to work with relevant medical device manufacturers.
Australia previously issued guidance on the technical considerations for Additive Manufactured Medical Devices. This guidance outlined recommendations for 3D-printed devices from the device stage to process validation and acceptance activities of finished devices.
Governments are working across multiple departments to mitigate PPE and accessory shortages and recognise that when conventional products are unavailable, some parties are considering printing or purchasing 3D-printed devices.
Innovation in health, and healthcare services has been a strength of Queensland for many years. My office is working closely with government, industry, innovators on the broad response to this virus. As healthcare organisations, governments, companies, and others continue to work toward solutions for the COVID-19 pandemic, we are reminded that State, national and global "real-time" coordination should not happen in isolation. It is through coordinated networks of small geographies of innovation, areas of advanced research, smart rapid prototyping, and commercialisation, that real progress is made.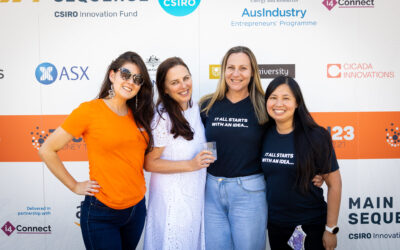 Tech23 has evolved over the last 13 years as deeptech has increased in prominence and it is wonderful Tech23 will be steered and revitalised by the impressive team at Cicada Innovations.
TeamSlatts has loved developing and producing Tech23 for 14 years – but we have decided it's time to draw the curtain.
By Dr Charlie Day   CEO, Jupiter Ionics, past CEO, Office of Innovation and Science AustraliaThis article is an excerpt from the Tech23 2021 booklet Towards a Better Tomorrow.The deeptech commercialisation landscape in Australia has changed significantly in recent...