This year we are delighted to be announcing the 23 young innovative companies from across Australia through the publication of the Tech23 2021 booklet which is available in print and also online. Have a peek and acquaint yourselves with the Tech23! We think the 23 for 2021 are great and want to congratulate them for what they have done so far and cheer them on to realise their potential!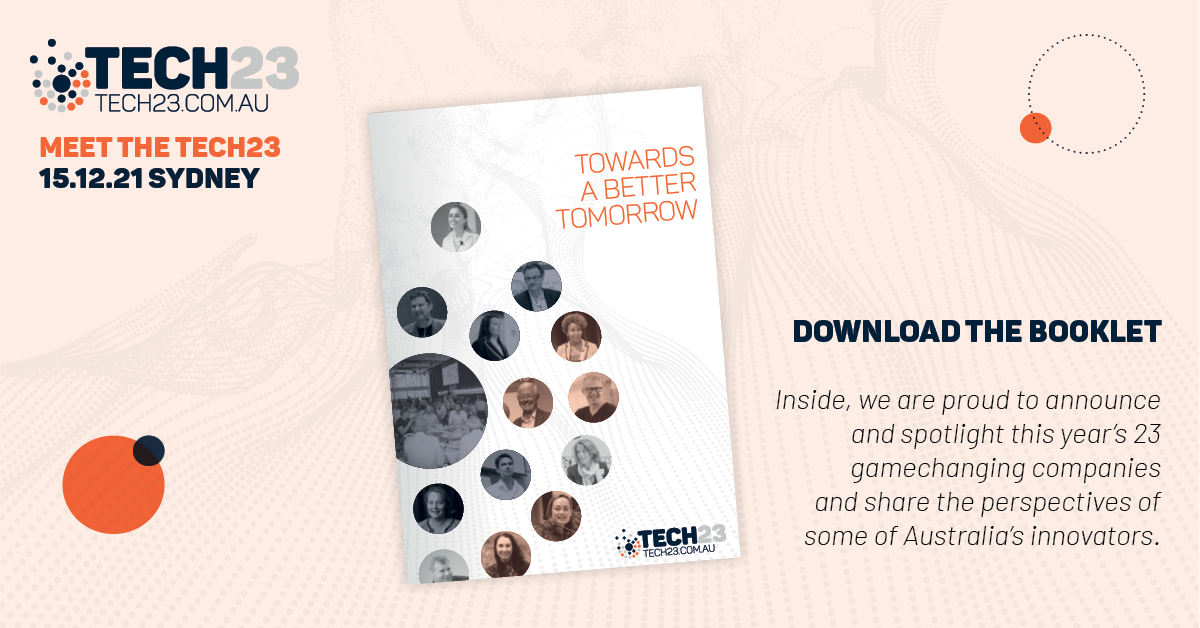 On Wednesday 15 of December, 2021 many of the Founders of the Tech23 2021 companies will be convening in Sydney alongside investors, representatives from government, enterprise and industry. Industry Leaders include – Ranya Alkadamani, Aude Vignelles, Mark Pesce, David Spence, Ninotschka Titchkosky, Roger Allen, Cass Mao, Sarah Nolet, Georgina North, Michelle Deaker and Kate Pounder who will be involved as table hosts and on stage discussing topics such as new tools to amplify our intelligence; safe and reliable energy and impact of ESG initiatives on deeptech.
In COVID times we set out to create what we missed most from events – the serendipitous conversations you chance to have in hallways or after the "real" session has stopped on stage. Thanks to all those who have taken part in the Tech23 Impact Circles, providing insights and information so generously – all the Circles are now available online on demand.
In the Tech23 2021 booklet we have collated some more perspectives of Industry Leaders in our midst. We hope that readers of the booklet gain another small glimpse of the personalities, the passion and the intelligence of the types of people who nurture mighty endeavours all around the country. You can view an online version of the Tech23 2021 booklet here.
There are so many people to thank for making the 13th Tech23 happen! Thanks to the sponsors: Transport for NSW, Main Sequence CSIRO Innovation Fund, AusIndustry Entrepreneurs' Programme delivered in partnership with i4 Connect, AWS Startups, Addisons, ASX, ANSTO, Curtin University, Cicada Innovations and evokeAG. And I want to thank so many individuals who have provided their energy, guidance, time and expertise to help us with Tech23 this year.
For those of you who get to celebrate at Tech23 2021 in Sydney on 15 December – enjoy! Haven't we had it confirmed during these COVID times that innovation does indeed walk on two legs – and so much of the magic of life happens with us being at the right place at the right time?!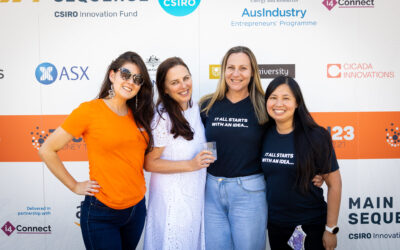 Tech23 has evolved over the last 13 years as deeptech has increased in prominence and it is wonderful Tech23 will be steered and revitalised by the impressive team at Cicada Innovations.
TeamSlatts has loved developing and producing Tech23 for 14 years – but we have decided it's time to draw the curtain.
By Dr Charlie Day   CEO, Jupiter Ionics, past CEO, Office of Innovation and Science AustraliaThis article is an excerpt from the Tech23 2021 booklet Towards a Better Tomorrow.The deeptech commercialisation landscape in Australia has changed significantly in recent...